Do You Need a Better Cell Phone Signal?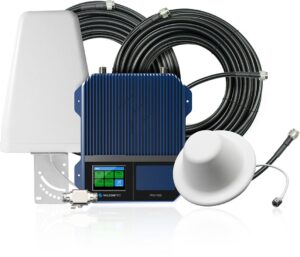 Cell phone signal boosters are perfect for areas where cell signals are weak.  This is often the case in rural areas.  Weak cell signals are caused by distance from a cell tower, trees, hills, and mountains.  Imagine if your cell phone is your only form of communication and you are not able to connect during an emergency. The results could be catastrophic. Fortunately, cell signal boosters can provide your solution.
Cabling Systems, Inc.'s cell signal boosters amplify an existing outside cell signal and then broadcast the boosted signal to an area inside your home or business that needs a stronger, more reliable signal.  Our cell boosters work with all types of cellular devices (phones, tablets, hotspots, etc.) and are compatible with all U.S. carriers (Verizon, AT&T, T-Mobile, US Cellular, and more).  There are no monthly fees.
Please contact us to discuss how cell phone signal boosters can provide the answer to your weak cell signal.  We look forward to ensuring that you are well connected.